Welcome everyone to the Zero no Tsukaima Wiki!
We're doing pretty good so far, but we need more pages. We still need more pages for certain things. Let's get writing!
This wikia contains 19,429 editions, 345 pages and 1,281 images, and 4 active editors since March 8, 2009.
What is Zero no Tsukaima?
Zero no Tsukaima, or The Familiar of Zero as it is popularly known in the west, is an anime, manga, and light novel created by Noboru Yamaguchi. It tells the story of a young female mage named Louise Françoise de la Baume le Blanc de la Vallière, the protagonist. Louise is the third daughter of a aristocrat family (La Vallière) and attends to the magics school of her kingdom, Tristania. As the first exam of her second year of her magics studying, she is supposed to summon a familiar, a creature that will be loyal to her and accompany her for the rest of her life, protecting and guarding her, but Louise is not very bright when it comes to magic casting, from where she gets her nick name: Zero Louise, as in zero accuracy Louise.
Latest News 15-0731 Cleck on New & Misc
We regret to report that Zero no Tsukaima's creator has passed away from his long battle with cancer. May he find rest in Halkeginia.
Noboru Yamaguchi R.I.P
11/2/72-4/4/13
The Publisher has announced that they plan to continue the series due to the fans and Yamaguchi's family wanting to see the end. It will be based on Yamaguchi's notes to his editors before his passing. Volume 21 is set to be published on February 25, 2016.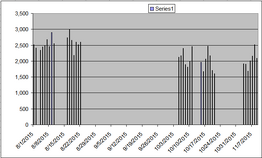 ---
Forum on animenewsnetwork (Article link confirming the series' [light novel] continuation: http://www.animenewsnetwork.com/news/2015-06-25/the-familiar-of-zero-light-novels-to-continue-after-author-passing/.89697)
---
All Name reference is using Zero no Tsukaima:translation guidelines from baka-tsuki.org
List of Zero no Tsukaima Albums